Nous travaillons sur l'utilisation d'enzymes et de bactéries comme biorécpeteurs capables d'interagir spécifiquement avec différentes cibles moléculaires. Nous étudions la possibilité de les intégrer à des interfaces électrochimiques pour le développement de biocapteurs sensibles, spécifiques et stables dans des milieux de différentes propriétés physicochimiques.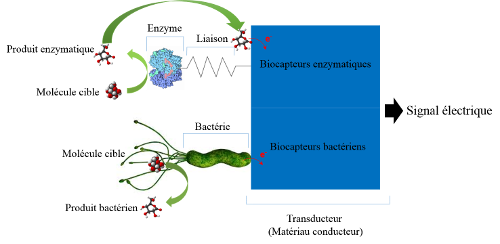 Questions ou commentaires: Contactez-nous
---
J. Pezard, M. Lazar, N. Haddour, C. Botella, P. Roy, J.-B. Brubach, D. Wysocka, B. Vilquin, P. R. Romeo, F. Buret, « Realization of a graphene gate
field effect transistor for electrochemical detection and biosensors », April 2016 (in press).
S. Baali, R. Kherrat, S. Zougar, Z. Djeghaba, F. Benamia, N. Jaffrezic-Renault, N. Haddour, « Comparative Study of Responses of Two Enzymatic Biosensors Based on Lipase from Candida rugosa and Porcine Pancreas for Detection of Diclofop-Methyl », Sensor Letters. 2013; November 11 (11), pp. 2021 2029(9).